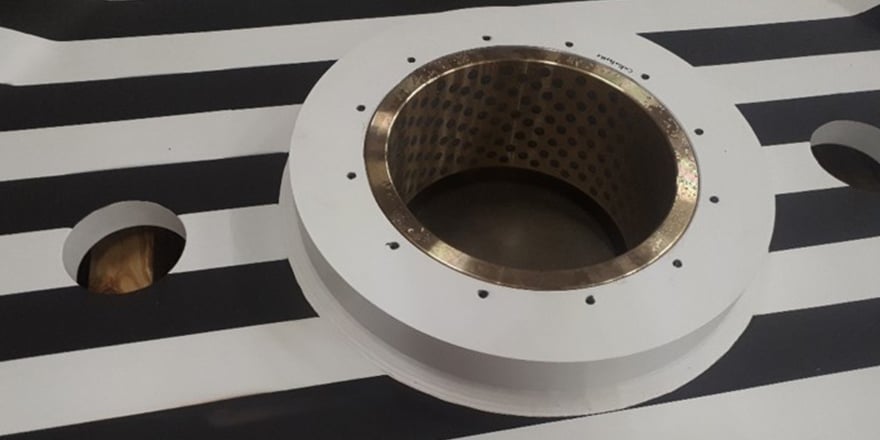 Posted on: 17-03-2021
Webinar Self-lubricating bronze plain bearings
Webinar Self-lubricating bronze plain bearings
Curious about the self-lubrication of bronze plain bearings?
In many cases, we can help you convert the use of bronze plain bearings that require a lot of lubrication into a low-maintenance solution from our product range. Don't miss out on the reasons why bronze plain bearings are the finest for your applications. Take part in this webinar given by sales director Peter Slijkhuis. The webinar runs every 15 minutes at Tuesday March 23rd, 2021 between the hours of 5:00 AM to 11:00 PM – Amsterdam.
In this webinar Peter explains lubrication regarding bronze plain bearings. The traditional bronze plain bearing alloys, grease, oil, and strong lubricants, and dry running are covered in three parts. This gives a good indication of how the self-lubricating process works. A detailed description of each component will aid you in your journey for the best bronze plain bearing.
Bronze plain bearings
Firstly, when using bronze plain bearings, what should you bear in mind?  For your specific project you would like to know why bronze plain bearings are the better decision. For instance, using bronze plain bearings generally requires the use of special grooves, as well as the use of grease and oil for maintenance, which is expensive. Dry running poses a danger to bronze plain bearings, which happens when the greasing lubricating system fails. Curious about the consequences of dry running? In addition, many of the advantages that bronze plain bearings offer will offset these drawbacks. Above all, as a green company, we must never lose sight of the importance of the environment. Learn more about the benefits of self-lubricating bronze plain bearings. Do not hesitate to contact us on Tuesday March 23rd.
Characteristics of sintered bronze with oil impregnation
Secondly, self-lubricating materials, such as sintered bronze with oil impregnation, initiate by being pressed into a cylindrical, flanged, bar stock, or tube. Engineers, project managers, and product managers may be especially interested in the sintering process because it illustrates how parts are manufactured. Sintered bronze meets a variety of requirements, including rotating motions, low noise, and standardization. The advantage of a high number of volumes is that the tooling (constant) costs are spread over a larger number of units and the unit price can therefore drop. To conclude, bronze plain bearings are cost-efficient, high-precision bearings. Indeed, we can adjust our range of services to your unique requirements. In the webinar, additional characteristics of the sintered bronze oil impregnation are explored.
Sintered bronze with solid lubricants
Thirdly, the sintered bronze with solid lubricants has a detailed self-lubrication process. The bronze bearing with solid lubricant is a high-quality material for heavy loaded parts. It is an interesting material because of its self-lubrication, high static and dynamic load capacity. The applications of the bronze are used for cranes, sheaves, injection moulding machines, ovens, heavy handling equipment, etc.
Casted bronze materials with lubrication dots
Furthermore, the casted dots are there to provide the necessary lubrication and can be made of water-resistant bronze. The most important choice in the casted bronze is the lubrication as the graphite is conductive and there is a risk of galvanic corrosion.
Benefit from 35 years of ELCEE expertise
Moreover, we have over 35 years of experience in the field of plain bearings, enabling us to assist you with the engineering, calculation and manufacturing of plain bearings for your specific needs.
If you are unable to attend the webinar, please do not hesitate and contact us. Seize the opportunity to speak to one of our managers personally. To emphasize, Peter Slijkhuis has more than 25 years of experience with production and technical advice of bronze plain bearings worldwide and is here to share his expertise and knowledge on the matter.
Start expanding your knowledge on the self-lubricated bronze plain bearings by registering for the webinar on Tuesday March 23rd!