PLAINED BEARINGS MADE-TO-MEASURE OR DELIVERED RAPIDLY FROM STOCK
ELCEE is a supplier of industrial components and assemblies. For standard products as well as for custom-made products, we are your contact person and a dependable partner who gives advice you can rely on. ELCEE is specialised in plain bearings. Which is a common component in industrial assemblies and production processes. It is therefore crucial that you are always supplied with exactly the right plain bearing for your application. Whether you are an engineer with technical questions or a purchaser looking for the right price-quality ratio, we are ready to give you professional advice and carefully guide your purchase. In doing so, we are always focused on reducing the total cost of ownership for the customer.
APPLICATION OF PLAIN BEARINGS
Plain bearings are used in almost every industry you can imagine. From offshore to machine building. For certain industries and processes a hygienic and/or dust-free environment is a requirement. Plain bearings have the significant advantage of not attracting dirt. This not only contributes to a cleaner atmosphere, but it also means that the sliding bearing requires almost little maintenance. In many circumstances, plain bearings can be used instead of ball bearings. ELCEE always determines if this is possible based on the circumstances.
For this purpose, ELCEE engages in-house engineers. They investigate and determine whether the transition from ball bearing to plain bearing is feasible.
11 IN-HOUSE ENGINEERS AT YOUR DISPOSAL
When it comes to plain bearings, ELCEE is the market leader. Across the spectrum, there is a high level of product expertise. At our Dordrecht office, eleven engineers are at work with whom you, as a client, may directly interact on a technical level.
As an engineer, you will always be in contact with other engineers. Supported by extensive technical knowledge and experience. Our engineers are specialised in plain bearings and all other products that ELCEE sells. They think along in every situation and have an eye for all additional variables. In short, with ELCEE as your partner, all the elements are present to successfully start your project already in the engineering phase.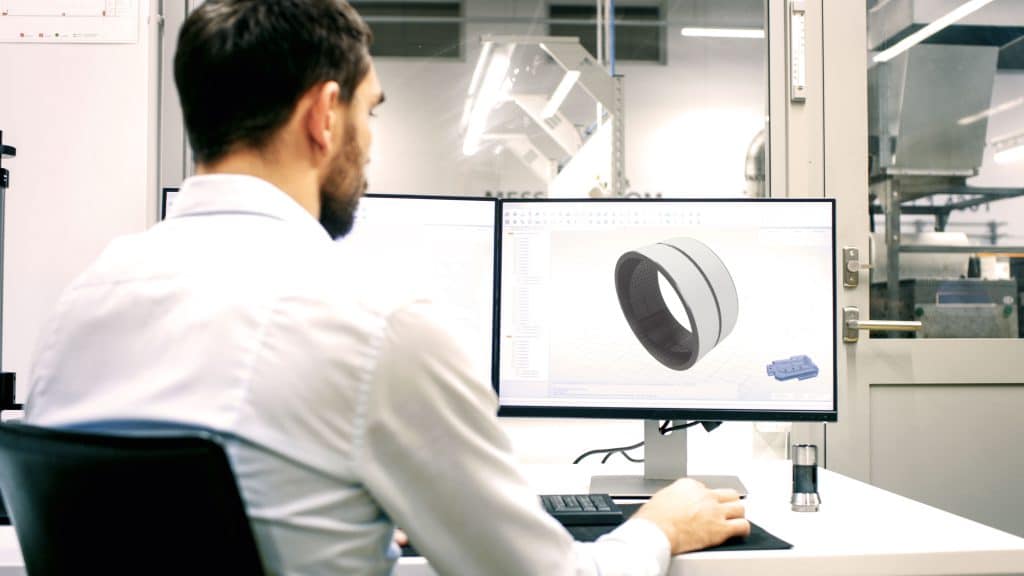 COST ENGINEERING engineerd design ELCEE
OPERATIONAL FRAMEWORKS CLEARLY IN VIEW
When an engineer comes to ELCEE with technical questions, we like to start a conversation, we like to take every technical detail of the application into account and ask essential questions such as:
What are the specifications, conditions, forces and speeds?
What movement is made; is it swinging or rotating?
What is the ambient temperature?
Is the operation under or above water?
Is it a dirty or a clean environment?
In short, with just one application ELCEE asks the customer all the ins and outs. We prefer to receive a CAD-drawing which we could revise together. If these drawings are not available, ELCEE can also produce and deliver them itself.
CALCULATING DETAILED SPECIFICATIONS
When a client comes to ELCEE with detailed specifications and requirements, ELCEE will always calculate this as a standard service. If necessary, we will also discuss this. As an added service, a double-check is performed to ensure efficient manufacturing and safe industrial use.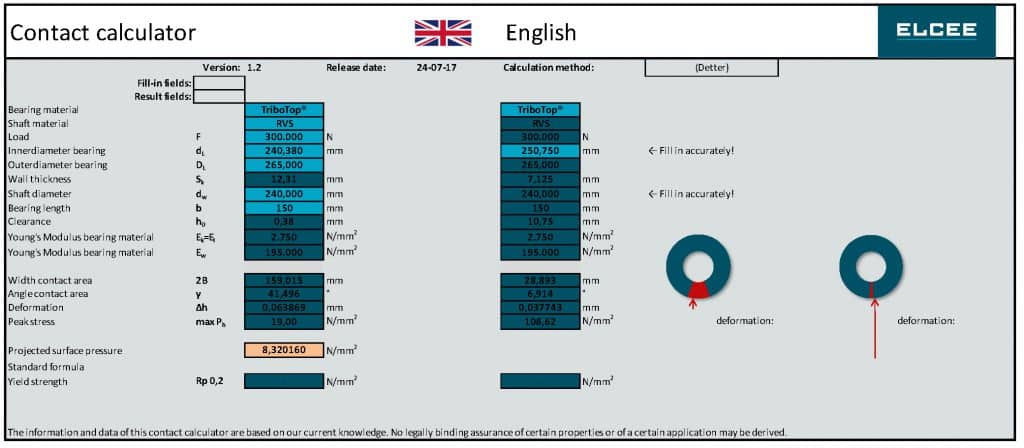 CALCULATING DETAILED SPECIFICATIONS
EXTENSIVE CHECKING OF THE PRE-SERIES PRODUCTION
After the engineering phase, ELCEE arrives at a final assessment in the form of a drawing which is submitted to the client. Based on the drawings, a so-called pre-series are made. Only when the pre-series are 100% approved, will the series production begin.
PLAIN BEARINGS WITH QUALITY GUARANTEE
There is a highly extensive quality control method in place for the series production of plain bearings. The Far Eastern production is where the most significant control takes place. ELCEE employs eighty people who continuously monitor the production quality. This ensures that we do not receive any rejected products in the Netherlands. On arrival in the Netherlands, we do carry out random checks.
We go to great lengths in this respect. Even the composition of the metal and/or plastic used is checked. This is done for productions from the standard range as well as for press-in parts for client-specific plain bearings. In short, ELCEE guarantees quality.
ELCEE's claim to quality is supported by ISO certifications. ELCEE Plain bearings can be certified according to the following standards, among others:
ISO 9000
ISO 14002
IATF 16949
ELCEE has been marketing plain bearings for more than fifty years. For this we cooperate with ten specialised production locations. It goes without saying that there is extensive knowledge about the production and application of plain bearings. We consider the plain bearing to be one of our specialisations.

ISO CERTIFICATIONS WITH ELCEE
ELCEE: THE PARTNER FOR ENGINEERS
ELCEE is the partner for engineers at the customer side. Our basic principle is to speak directly with a fellow engineer at a high level. Our engineers work with plain bearings on a daily basis and have therefore built up detailed knowledge in specific areas. This detailed knowledge helps you to realise a better functioning machine. Do you have a technical question? We would be pleased to put you through to one of the ELCEE engineers.
KNOWING WHAT DRIVES BUYERS OF PLAIN BEARINGS
ELCEE focuses on the buyer in addition to the engineer. This is accomplished through price-quality and logistical solutions. We have warehouses all throughout Europe and distinguish ourselves by having global manufacturing sites while being engaged on a local level.
COMPETITIVE PRICE-QUALITY RATIO
ELCEE is also your partner when it comes to a competitive price-quality ratio. In the industries in which we operate with plain bearings, it is not possible to make concessions when it comes to quality. After all, a buyer who wants a competitive price is always a buyer who demands good quality.
60% OF ALL SLIDE BEARINGS IN STOCK
As described above, ELCEE is the right place for custom bearings. As much as 60% of all bearings are delivered directly from stock. This means that as a purchaser you will have your delivery at the desired location quickly.
MEASURABLE ADDED VALUE
With ELCEE's lubricant-free bearings, we create USPs for our customers:
Maintenance-free machines
Longer life of the plain bearings (less downtime for overhauls)
No contamination from lubrication
Added value lies at the heart of the ELCEE product. That is what ELCEE provides to its clients, and that is why they return. We save them both time and money. We realize benefits not only by completing technical duties, but also through buying, quality assurance, total cost of ownership, and logistical solutions. This distinguishes ELCEE in the market.
ELCEE PARTNER FOR BUYERS
Are you a purchaser for industrial components or assemblies and looking for quality plain bearings at the best price and with the right advice? Then please contact ELCEE. We will gladly answer all your questions and work with you to find the best solution.