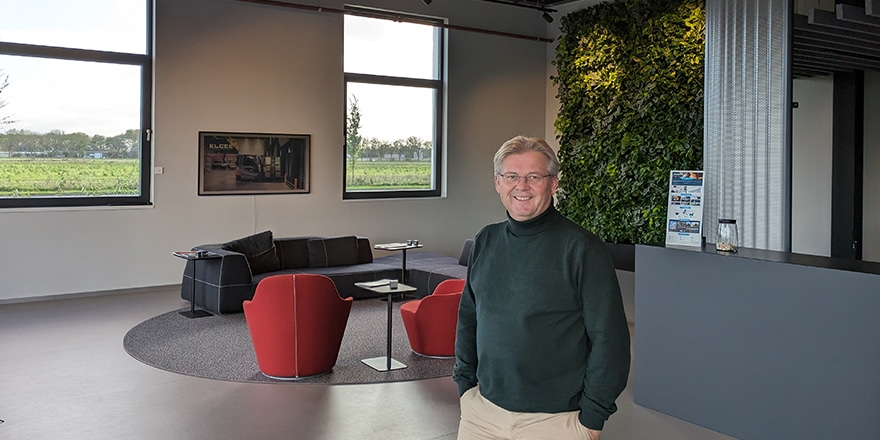 Opslået på:07-11-2023
PETER SLIJKHUIS: PROUD OF TEAMWORK AT ELCEE
PROUD OF TEAMWORK AT ELCEE
Peter Slijkhuis, one of the most experienced employees, is happy to share his career path at ELCEE. He started in 1988 as an inside sales representative and eventually climbed to International Sales Director. In this article, Peter takes you on a journey through ELCEE's organisation when he was just starting out, discusses his biggest challenges and highlights the importance of teamwork.
A LARGE INDUSTRIAL DEPARTMENT
I have been working for ELCEE for more than 35 years and I can tell you that it is a great company to work for. I have learnt a lot, experienced a lot and had a lot of fun in my career. Right after I left employment, I was able to join ELCEE. The company was relatively small at the time, with around 40 employees, and I ended up in the lifting equipment department, but it was actually one big industrial department where everyone worked together. The atmosphere was cosy and dynamic, people worked hard and laughed a lot. I immediately felt at ease and received good guidance from my colleagues.
Our product range changed constantly over the years: from plate clamps to lifting cranes, from steel bearings to trolleys. Together with Gerard Dijkers, I was always expanding into new product groups and suppliers.
A new step for us was the expansion into product automation through screw machines, presses, dosing equipment, etc. This made for fantastic trips to suppliers abroad, where we not only had fun but also gained a lot of knowledge about new products that we then sold successfully. Everything seemed to turn into gold and everything worked out.
SKYBOX AT SPARTA
During that period, we had a skybox at Sparta, where we took big (potential) customers (these were often picked up and brought home by us ourselves). After an unforgettable evening, a relationship grew into one of our biggest clients. Football really brought us closer together and created long-term business ties.
What I also have wonderful memories of are the Christmas parties, where everyone from the whole company attended. We also went to big Arjan van Dijk parties with colleagues, always with partners, which was a fantastic time. So I am greatly looking forward to the 100th anniversary celebration on 10 November for all ELCEE Group staff.
EXCITING AND EDUCATIONAL PROCESS BY PETER SLIJKHUIS
I have held various positions at ELCEE in various departments. After starting in the lifting materials department, I started focusing more and more on technical aspects, especially plain bearings. This fitted in well with my education (MTS). I became a product specialist and had a lot of contact with customers. Eventually I got the chance to head the plain bearing department, but before I did, I wanted to gain more experience in the field. Therefore, I became an account manager and over time I eventually took charge of the bearing department. Starting as manager of the bearing department and setting up suppliers in Asia was an exciting and educational process, where I had a lot of contact with people from other cultures and countries. I am proud that we have built a good network of reliable partners. After an intermediate step through the engineering department Bearings and Castings, I became responsible for International Sales where I maintain sales contacts with many international colleagues and have a number of large international customers under my belt.
TRANSITION TO BUSINESS UNITS
One of the biggest challenges in my career was in 2000, when we started setting up separate business units instead of one big industrial department. That was quite a change, requiring a lot of organisation and adaptation. But it was also a great opportunity to create more focus and specialisation within ELCEE.
PRESTIGIOUS AND COMPLEX PROJECTS
The most interesting and challenging projects I have enjoyed working on, with John Heerens and others, are all the Royal Navy frigates and submarines, for which we supply propeller shaft bearings. These are very prestigious and complex projects, where we work closely with our customers and suppliers to provide the best solutions. It is always an honour to be involved in these projects and to see how our products contribute to the safety and performance of these ships.
TEAMWORK ACCORDING TO PETER SLIJKHUIS
The most valuable thing I have learned in my career is that you can only be successful if you all work together. ELCEE is a company where teamwork is key, where everyone helps and respects each other, and where together we strive for the best results for our customers. I am proud to be part of this team and hope to continue working at ELCEE for a long time to come.
PART OF MY LIFE
ELCEE has become a part of my life and I am still excited about working here. I would like to thank everyone who has helped, supported and inspired me in my career. I look forward to the future and to all the new challenges and opportunities to come!
---
Want to know more about Peter Slijkhuis?