Opslået på:04-09-2023
ELCEE at HI Tech & Industry Scandinavia
See you at the industry event on 3-5 October 2023?
ELCEE at HI Tech & Industry Scandinavia
Discover the latest innovations and expand your network at HI Tech & Industry Scandinavia, the industry's leading trade fair. With over 60 years of history, this event has become the go-to meeting place for professionals from various sectors in Scandinavia. This year, ELCEE will be showcasing its cutting-edge products and solutions, offering you a unique opportunity to stay ahead of the curve in your industry.
Stay ahead with ELCEE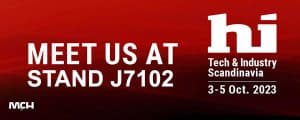 As one of the exhibitors at HI Tech & Industry Scandinavia, ELCEE is excited to present its comprehensive range of products and services. With a focus on three strong sectors castings, forgings and assemblies – we aim to provide you with innovative solutions that can enhance your business operations. At our booth, you will have the opportunity to explore our extensive product portfolio. From precision machined parts to custom-made assemblies, we pride ourselves on delivering excellence in every aspect of our offerings. Our team of experts will be available throughout the event to discuss your specific needs and offer tailored recommendations. Whether you are looking for high-quality components, advanced engineering solutions, or reliable technical support, ELCEE has got you covered.
Expand your network
In addition to discovering the latest products and solutions, HI Tech & Industry Scandinavia offers an excellent opportunity to expand your professional network. Connect with industry leaders, experts, and like-minded professionals to exchange ideas, share experiences, and explore potential collaborations. ELCEE is committed to fostering meaningful connections within the industry. Our representatives will be available at our booth to engage in discussions and establish valuable partnerships. We believe in the power of collaboration and look forward to connecting with you at this event.
Stay informed with conference sessions
The event features a series of highly topical conferences where industry experts share their insights on the latest trends, technologies, and challenges facing the sector. As part of our commitment to knowledge sharing, ELCEE will also be participating in several conference sessions. Stay tuned for more details on our presentations and join us as we delve into key topics that can help drive your business forward.
Don't miss out – save the date! HI Tech & Industry Scandinavia
Mark your calendar for 3-5 October 2023 and make sure not to miss this event. This three-day event promises a world-class experience filled with innovation, networking opportunities, engaging activities, and much more.
We look forward to welcoming you at our booth and showcasing how ELCEE can contribute to your success.
---
Location HI Tech & Industry Scandinavia
MCH Messecenter Herning
Vardevej 1
7400 Herning
Denmark
Date HI Tech & Industry Scandinavia
3-5 October 2023
---