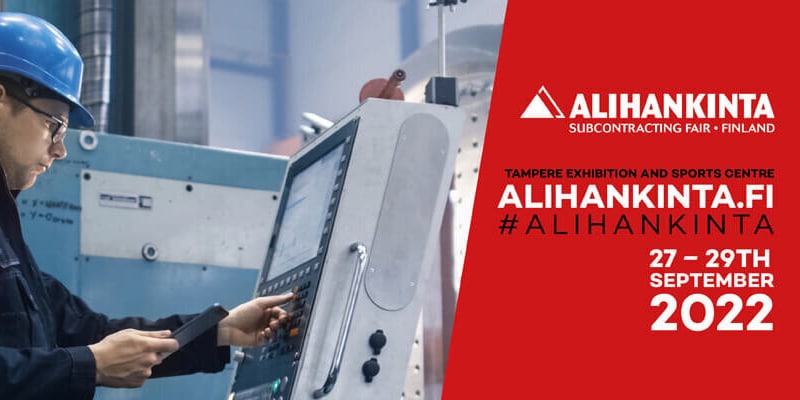 Opslået på:23-08-2022
ELCEE at Alihankinta subcontracting trade fair
ELCEE at Alihankinta subcontracting trade fair
27–29th Sept 2022 Tue-Wed 9am-5pm, Thu 9am-4pm | BOOTH A 119
In 2022 ELCEE will also participate in the Alihankinta, subcontracting fair in Tampere Finland. At our stand, we'll showcase numerous success stories and offer product samples. You can explore castings, forgings and plain bearings made in a variety of materials, such as stainless steel, bronze, or composite, to pique your engineering curiosity. Over the past 100 years, we have developed a thorough understanding of castings, forgings, plain bearings, and stainless steel. We are eager to share this knowledge with you to optimise your industrial engineered components.
The place where industrial professionals meet
Subcontracting presents the metal, electronics, plastics and rubber industries, industrial ICT solutions, as well as design and consulting within these fields. In three days, Finland's leading industrial event will offer visitors a unique overview of the industry's prospects and the future.
Or contact your local ELCEE contact person.
Location
Tampereen Messut Oy
Ilmailunkatu 20
33900 Tampere, Finland
Opening hours
Tuesday 27.09.2022 | 9:00-17:00
Wednesday 28.09.2022 | 9:00-17:00
Thursday 29.09.2022 | 9:00-16:00
Theme 2021: business from data
This year, the theme of the Subcontracting Trade Fair is Business from Data. This theme emphasizes the importance of information for future industry. During the fair, the theme is viewed from the perspective of smart industry, security, and productivity. "The objective of the theme is to help manufacturing companies with the challenge of transforming large amounts of data into information that enhances their understanding of business opportunities and thus increases productivity and competitiveness."
Project Manager and Communications Manager of the Subcontracting Fair Tanja Järvensivu of Tampere Trade Fairs.
We look forward seeing you at booth A119.