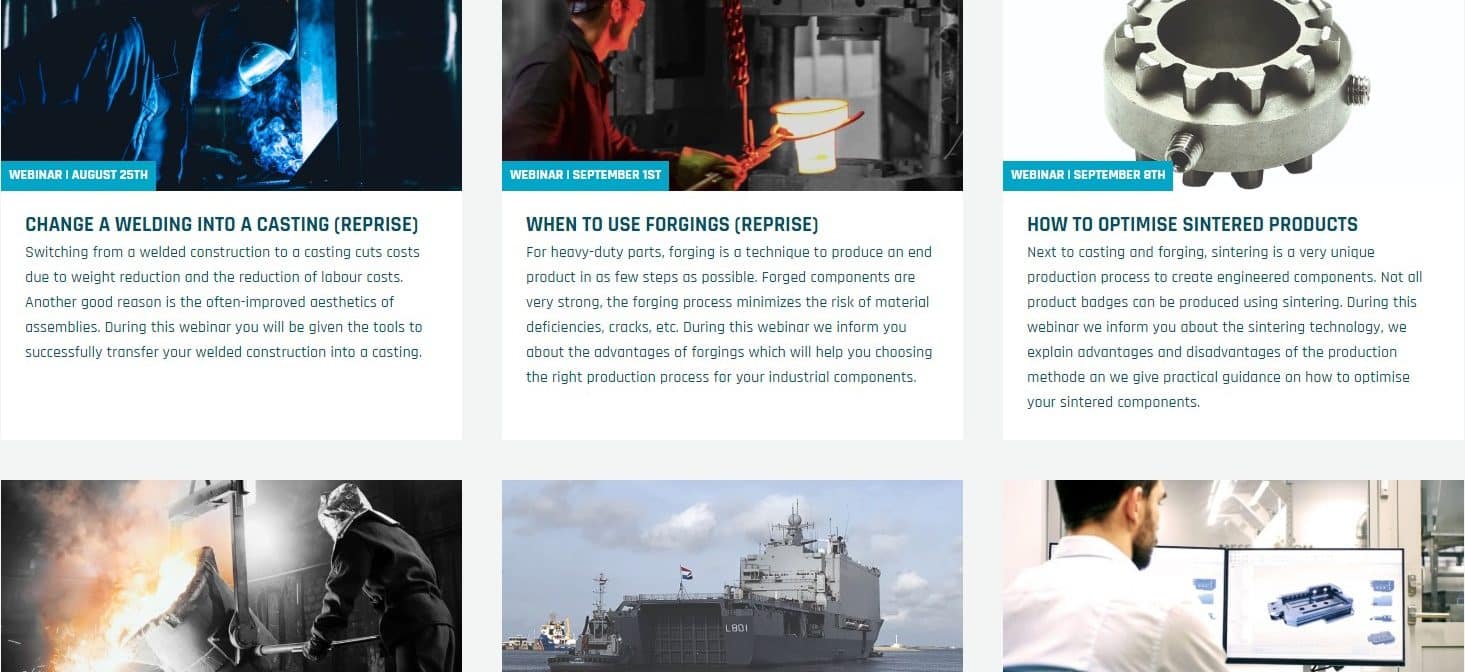 Postet på:06-08-2020
ELCEE ACADEMY CONTINUES!
NEW WEBINARS ELCEE ACADEMY
Every Tuesday at eleven o'clock, keep half an hour off in your diary. That's our first piece of advice. Many other advices are given during that half hour, because we will continue with the webinars of the ELCEE academy! Free online seminars on engineered components, casting and forging, plain bearings and more.
Peter Slijkhuis has been working at ELCEE since 1990, Anders Nielsen has more than 25 years of experience in the world of casting technology, Frank Nijhof has been focusing on product development, the production and technology of engineered components for 30 years. They combine their knowledge in the ELCEE academy while presenting the webinars. Our goal of the webinars is to inspire you. Inspiration leads to innovation, with which you can improve your components. New insights into materials, or knowledge about a traditional casting technique, but also fine subtle tips about the design process of a product with which you can lay exactly the last piece of the puzzle. We want to achieve this by giving the webinars within the ELCEE academy.
FEEDBACK ELCEE ACADEMY PARTICIPANTS
We used the summer break to evaluate the webinars of May and June. Among other things, we conducted a survey among the participants of the webinars in May and June. This gave us interesting insights. Tuesday at eleven o'clock turned out to be the most popular time to follow a webinar. That is why we tailored the planning accordingly. Also, we no longer plan two webinars per week, we only present on Tuesdays at eleven o'clock. Because 80% of the respondents indicated that they appreciated the invitation process, we keep it the same. We send one e-mail invitation for the entire webinar season and we also send e-mail invitations per webinar. In the survey we asked questions about the content of the webinars, participants indicated that they are most interested in webinars about engineered components at an advanced level. Topics on casting and forging techniques come in second place and slide bearings come in third place. We have therefore adjusted our schedule for August and September accordingly.
Quote:" I have attended several of their webinars. The length of about 20 minutes is very good, it can always be integrated into a day. The lecturers were people from the practice. In some cases this really helped me a lot. Thank you very much for that."
ELCEE ACADEMY FOR AUGUST AND SEPTEMBER: NEW WEBINARS
Curious about the new webinars of August and September? All planned webinars are published on the ELCEE academy page. From this page you will get to a registration page per webinar. Because you follow the webinar via a unique link, a registration is required.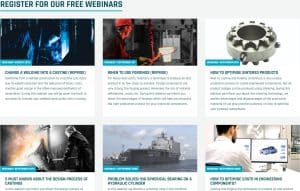 ABOUT ELCEE ACADEMY
What: online seminars on engineered components, casting and forging techniques, plain bearings and more.
Duration: 30 minutes
Costs: free of charge
Language: English
TECHNICAL TIPS
Make sure you have a sufficiently high quality internet connection so that the connection is not disconnected halfway through the webinar and you have to log in again.
QUESTIONS? GET IN TOUCH